Sponsorship
Thank you for your interest in sponsoring Roguelike Celebration!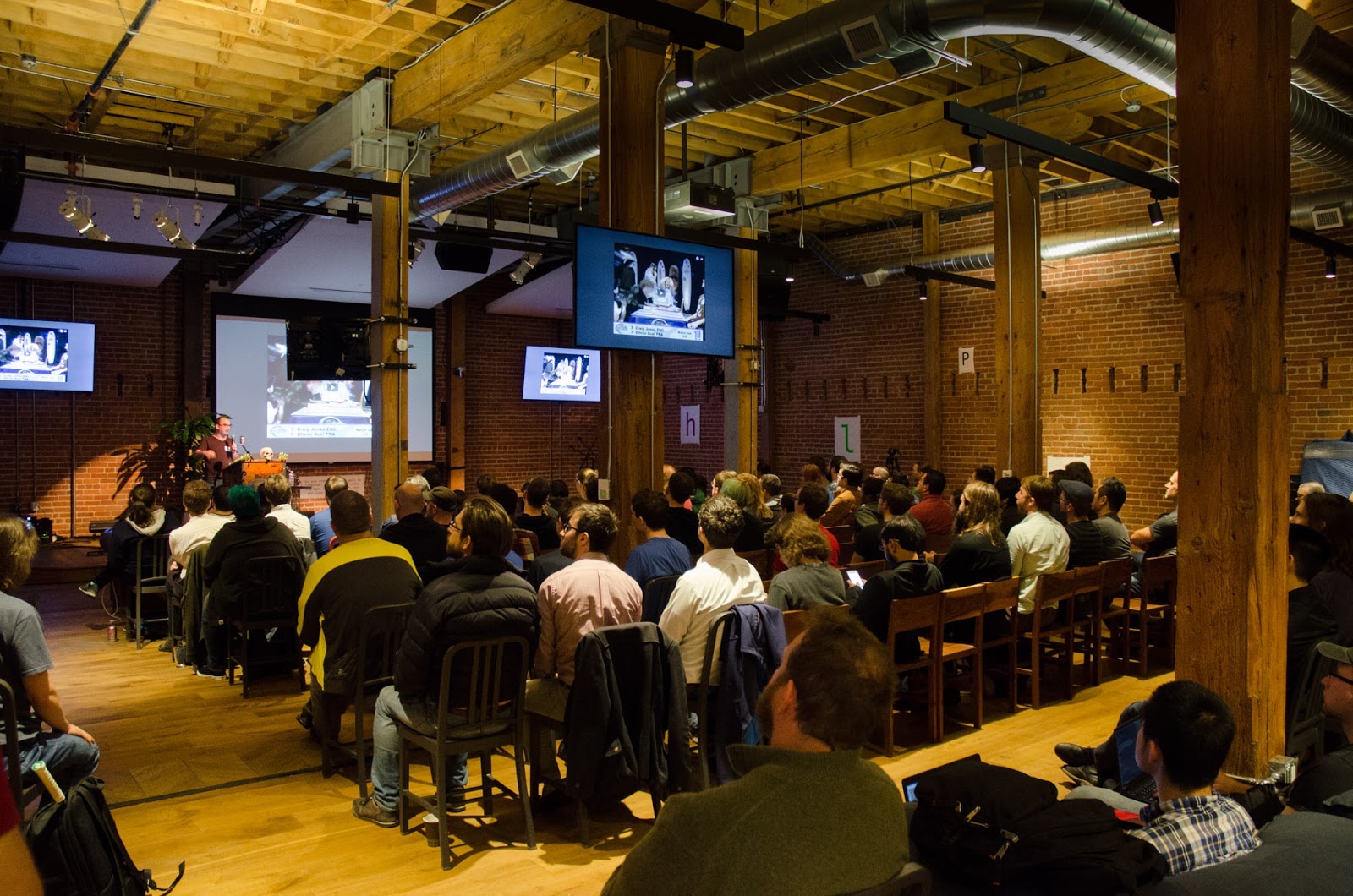 Roguelike Celebration is an annual event celebrating roguelike games and games/art that use procedural generation. It features a single-track conference of technical and game design talks, and has activities ranging from an arcade where game developers can show off their in-progress work to artistic performances and installations such as a bot-generated comedy show and an immersive theatre piece involving live improv actors.
We have ~200 in-person attendees (many of whom self-identify as game developers or run their own indie game studios), plus typically 100+ viewers on our Twitch livestream. Videos of the event are published to our YouTube channel with over 2,500 subscribers, and our most popular videos have been watched nearly 60,000 times.
Benefits of Sponsorship
For your company, you will gain visibility with 300+ independent game developers and software engineers from around the world.
Your sponsorship will make Roguelike Celebration more diverse, supporting speaker travel for speakers with underrepresented backgrounds as well as supporting a more diverse audience.
Contact
Send us an email at [email protected] to get the conversation started!
Sponsorship Levels
Tin ($500)
Logo on the website and welcome slide
A short video or game trailer played at the conference during breaks
Silver ($2,000)
Everything included in Tin sponsorship
Swag distribution to all attendees
Roll-up poster or other signage
Verbal thanks during conference
Logo on all email communications
Gold ($5,000)
Everything included in Silver sponsorship
2 tickets for employees
Platinum ($8,000)
Everything included in Gold sponsorship
5 tickets for employees
A staffable booth with space for swag, company information, etc
Additional Sponsorship Opportunities
All prices in USD and subject to availability.
Note:​ the total value of sponsorship will be used to determine your level of sponsorship (e.g. If you sponsor live captioning ​in addition to​ a $5,000 USD financial sponsorship, you will become a Platinum Sponsor and receive all benefits listed therein)
Live Captioning: $3,500
This would allow us to provide live text captioning services for in-person attendees and the Twitch stream. This makes the conference more accessible for everyone! We'll be working with White Coat Captioning, a CART services company that focuses on tech conferences.
Diversity Speaker Travel Support
All money donated here would go to providing speaker travel for speakers identifying with groups (gender, race, etc) traditionally underrepresented in the game and technology industries. Roguelike Celebration traditionally does not have the budget to pay for speaker travel except in exceptional circumstances, so this would directly give us access to a more diverse pool of potential speakers.
Diversity Sponsorships
This will allow us to make more subsidized/free tickets available to attendees who belong to marginalized groups who otherwise wouldn't be able to attend, and potentially even provide travel and housing stipends. This will help ensure our event is as inclusive as possible!
Saturday Arcade Party: $2,500
Provide themed cocktails (and non-alcoholic mocktails) made by the venue's bartenders for our combined arcade/party after Saturday's talks. Your logo will be on the custom cocktail menus, plus you'll get special recognition before the party starts.
Meals
Historically, we've provided breakfast, lunch, and dinner both days of the conference. Costs are variable, and your sponsorship would include special recognition before/after each meal. Everyone likes food :)
Thanks for your consideration!
Questions? Concerns? Suggestions? We'd love to hear from you at
[email protected]
.